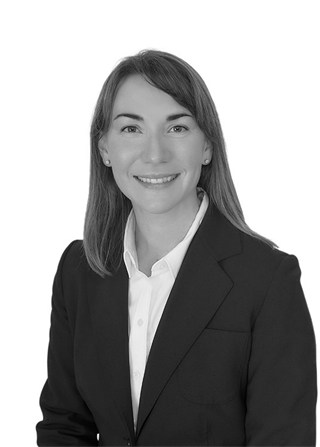 Bio
Katie has lived in Winchester for over 10 years and currently resides in the Grove Street area of town with her husband and 3 children. Married to a contractor, Katie has lived through major renovation projects in 3 homes and understands the art of seeing the potential in a property and the value of being able to make a house your next [...]
Bio
Katie has lived in Winchester for over 10 years and currently resides in the Grove Street area of town with her husband and 3 children. Married to a contractor, Katie has lived through major renovation projects in 3 homes and understands the art of seeing the potential in a property and the value of being able to make a house your next home.
Prior to entering real estate, Katie worked as a trader for a private investment firm in Boston. Her experience with a fast-paced, ever-changing workday makes her adept at handling a client's needs in the current real estate market environment. Her successful style of negotiation and honed financial analysis skills provide exceptional value to her clients.
Katie grew up in Southeastern CT and in high school ran cross country and rowed for the crew team. She attended Northeastern University in Boston and graduated summa cum laude with a Bachelor's degree in Economics and a minor in Business Administration. She later received a Master's degree in Finance from Northeastern as well. An active member of the community, Katie has served on the FAN of Winchester Board for 4 years and is currently serving as co-president. Believing that the school system is one of the best attributes of the community, Katie donates a portion of every transaction to the Winchester Foundation for Educational Excellence (WFEE) and the Winchester chapter of A Better Chance (ABC).
Testimonials
Katie is an outstanding realtor. Throughout the process of our home sale, we felt Katie could read our minds by anticipating our needs and having solutions already on-hand. Her friendly, confident presence and clear expertise made the process relaxed and flawless. Her deep, current knowledge of the market combined with her friendly " full-service approach" sets Katie apart. If you are looking for a most exceptional realtor - Katie is the one! – Paula R.
Katie went above and beyond for us--she was so patient and supportive as we went through the whirlwind of buying a house AND putting a house on the market at the same time. With her guidance and insight, we were able to buy our dream house, while selling our other house in record time! I would not hesitate for a moment to recommend Katie to anyone who is looking to buy or sell a home. - Sonya R.
Working with Katie was a pleasure. Her knowledge of the local community was extremely helpful in choosing the best home for our family. Her diligence and responsiveness throughout the home buying process made it a smooth and relatively stress-free experience. Ultimately, we found a home we love and feel great about our decision thanks to Katie's expert guidance. - Theresa S.
Katie Tully was phenomenal! From the moment we began the home sale process she was right there with us every step of the way. She highlighted the unique features of our home so much so that I would love to buy it myself! - Jane L.
My wife and I did the proverbial 'move to the burbs' recently, focusing on Winchester. While going to many open houses, we met Katie as she was representing the seller for a few properties. During these interactions, Katie was thoughtful in her questions to us as potential buyers, really trying to understand what we were looking for. Further realizing how competitive the market was, we reached out to Katie to try and understand the local market better. At this point, we were further impressed by not only her local knowledge but of her overall understanding of the process and her desire to really understand what we were looking for. After identifying a property that we wanted to submit an offer on, Katie walked us through how she felt our offer could compete better, what she felt the seller was looking for from a price perspective, contingencies and what to expect in a potential multiple offer situation; our offer was accepted! Overall, my wife and I were thoroughly impressed by Katie and feel without her help, we'd still be dragging ourselves each weekend to attend more open houses! Do yourself a favor and use Katie as your agent if you are seriously considering buying a property in Winchester! - Drew O.
I would highly recommend Katie Tully with no hesitation. I had recently moved to Boston from California for my new marriage and was looking for a bigger home since we were a blended family now. Katie helped my husband and I navigate through a very competitive market to buy our new house and sell our old house. Both for a great price and offers signed within days of listing and buying. She was very professional, diligent and really listened to what we wanted. Katie has an incredible work ethic and always responded to my texts, calls or emails right away. She was very knowledgeable and was never afraid to utilize the expertise of her co-workers when needed. She thoroughly kept us informed at all times and easily solved issues that arose. Katie is a pleasure to work with and made going through the buying/selling process much less painful. - Lisa A.
Office Location
48 Mount Vernon Street
Suite One
Winchester, MA 01890
Contact Info
Specifications
Languages: English
Specialties:
Service Area:
Contact
Hi there! How can we help you?
Contact us using the form below or give us a call.
Hi there! How can we help you?
Contact us using the form below or give us a call.