Summer is going to look very different this year. Kids haven't been at school since mid-March, so the usual "school's out" novelty has already worn off to an extent. The challenge for many is making summer seem special, while still abiding by the regulations and restrictions imposed by the pandemic. Many of our usual go-to's are either closed or operating with new rules that require a lot of forward planning. However, while we may have to forgo overseas vacations, camps, and spontaneous visits to the pool, there are still plenty of things we can do to get outside, have fun, and make memories. Our agents have been getting creative and are sharing some suggestions for activities with your family to fill the next 10 weeks.
Backyard Camping
Recommended by I-Ching Katie Scott
So camping might be off the cards for the short term, but there's no reason you can't set up camp in your own backyard! For little kids, it could be the perfect introduction to tent-life - plenty of access to bathrooms, the lovies you just couldn't leave behind, and a comfy bed if you really can't sleep. But for most kids the thrill of sleeping under the stars will be enough to keep them out there, and you can make it more special with s'mores, card games and stories by flashlight.
Outdoor Arts and Crafts
Recommended by Katie Tully
Getting outside, even if it's just in your own yard or driveway, can be a great way to spend a few hours. This recipe for sidewalk paint will give the kids something to do, both making up the paint (best done outside) and then using it. As well as decorating the sidewalk, how about decorating an address rock or painting kindness rocks or seashells? Tie-dye is another ever-popular activity - the kits are hard to come by but you can make your own and use an old t-shirt, pillowcase, tote bag or other material.
Beach (plan ahead!)
Recommended by Lesley Smith
The beach is still a great option for a day out, it just requires a little more forward planning. Many beaches on the North Shore are offering only limited admission to non-residents, so if you want to head to Wingaersheek or Good Harbor in Gloucester, get there early. You can follow their Facebook page for daily updates on capacity to get an idea of what time you need to arrive. Crane Beach is allowing advance booking for their beach access - you can reserve a morning or afternoon slot and pay in advance for contact-less access. Check their website to find out when slots come available. Other beaches such as Revere and Nahant are open to all but parking is limited - think beginning or end of day for your best chance of securing a parking slot. At all beaches there are requirements for masks and social distancing - make sure you have read up on the rules for your beach of choice before you set off.
Outdoor Movie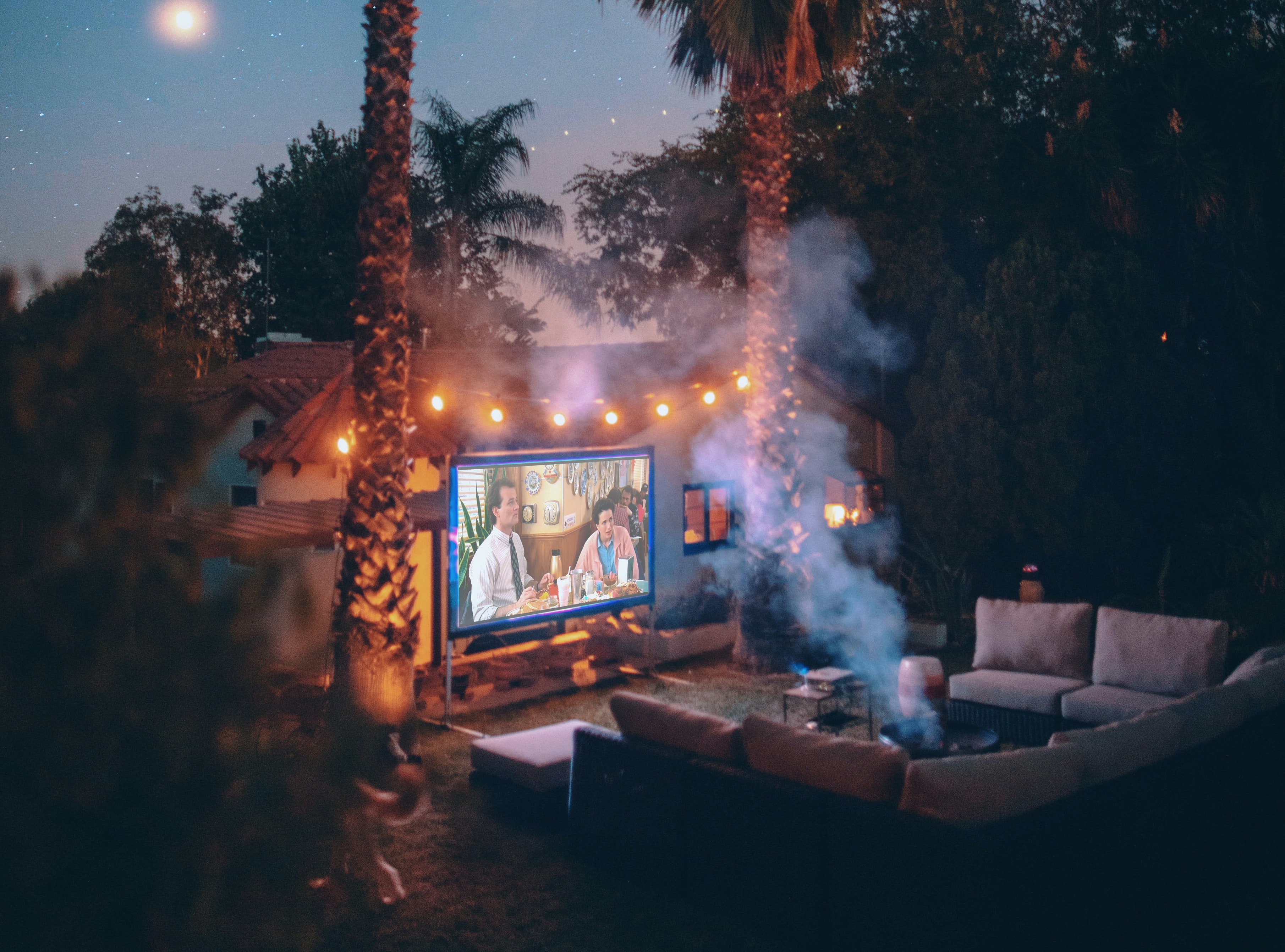 Recommended by Matt Asdornvuttikrai
Movie theaters are still closed but some drive-in movie venues have opened, again with extra precautions. Our nearest drive-in locations are at Mendon MA and Milford NH. You can also create your own outdoor movie set up - get yourself a projector and a screen, or even hang an old white sheet, and stream your favorite movies on your own schedule!
Hiking
Recommended by Anne Spry
There are many opportunities for short and long hikes in the Middlesex Fells Reservation - you can download a map of the trails from the DCR website. We like Long Pond Nature Trail on the Winchester side or the Healthy Heart Trail in Stoneham for shorter options, and the Skyline Trail if you are up for a day-long trek (plan for 5 hours). If you are feeling more adventurous and want to stretch your legs, head to New Hampshire to tackle one of the 48 4,000 ft hikes in the White Mountains. The Appalachian Mountain Club website gives you all the info you need - we suggest the hike to the Mitzpah Spring Hut as a great first hike with children.
Fruit Picking
Recommended by Naomi DeLairre
Here's another activity that can still take place despite the pandemic, but with restrictions. Many fruit picking farms have introduced new protocols such as allowing people to book a time slot, pre-paying, requiring masks and other changes to make the experience as contact-free and safe as possible. That means you can still spend a couple of hours eating - sorry - picking strawberries, blueberries, peaches and more. Mass.gov has a list of pick-your-own farms - make sure you check the website or social media pages of the one you choose to get the latest info before you go. Once you get your fresh-picked fruit home, why not try your hand at jam-making? This tried and trusted recipe is simple to follow and makes delicious jam - a happy, if sticky, way to spend an afternoon!
Sunset Bike Ride
Recommended by Katie Tully
Sometimes the simplest ideas are the ones that create the best memories. The sunsets at this time of year can be spectacular. Pick a clear night and head out on your bikes about 30 mins before sundown to a nearby hill or vantage point - we like Robbins Farm Park in Arlington and Wright-Locke Farm in Winchester. You'll have the perfect spot to watch the sky gradually change color and the lights come on in the city. Remember safety first - keep your social distance from others, wear your mask and helmet, and don't forget your lights for the way home.